Ack, yeah, April got busy.
Sorry, folks. That and it was just hard to get in the mindset to review this flick. It's a good flick, don't get me wrong, just one that deserves lots of detail given it's...well...let's just get on with it.
C'era Una Volta Il West (1968)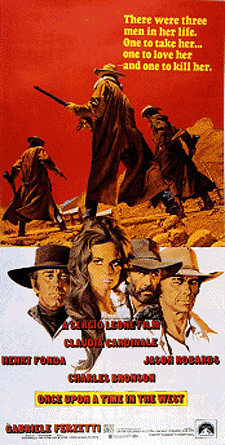 Original Theatrical Trailer:
Newer Trailer:
The Stats:
Director:
Sergio Leone
Cast:
Claudia Cardinale, Henry Fonda, Charles Bronson, Jason Robards, with cameos by Woody Strode and Jack Elam.
Type:
Sergio Leone High-Classic Spaghetti Western - with Hollywood speckles here and there.
Supercool Trivia:
Too many to mention.
Availability:
Pretty common -
Amazon US
-
Amazon Canada
-
Amazon UK
(75% Off!!!) - and I'm sure you can find it anywhere else.
The Content:
Checklist:
Spaghetti Gunshot Sound Effect - CHECK!
Anti-Hero or Criminal Main Character/s - CHECK!
Famous American Actors - CHECK! (Bronson, Fonda, Robards)
Cultural Stuff - CHECK!
Historical Connections - CHECK! (railroad)
Mythical Western Showdown - CHECK! (x 3)
Authentic Town - CHECK+!
Torture - CHECK!
Ennio Morricone Score - CHECK!
Cool Train - CHECK!
Hawt Euro Babe with tons of Eye-Makeup - SUPERCHECK!
The Review:
Good Lord, where do we begin?
Well, obviously, this film is not unknown to those of you out there. There are some who may not know all the details or haven't seen it in awhile, but nonetheless, when you start talking about westerns and (in particular) Spaghetti Westerns, you eventually come around to this film. While nowhere near as well-known as The Good, The Bad, and The Ugly; there are many who consider this to be Sergio's superior film (for good reason but we'll get to that in a minute), and it's ironically the one that's perhaps a bit more inspirational to filmmakers.
While TG,TB,TU is a great testament of Epic Blockbuster filmmaking, with an epic sprawl, some amazing set-pieces, and endearing characters - Once Upon A Time In The West is perhaps the more artful and cinematically jaw-dropping of the two Leone "western epics". Even in its foundation of story and characters, it's unconvential in most aspects, with a ghostly figure following a murderous outlaw, a "whore with a heart of gold" trying to make ends meet in a tragic situation, a rough 'n' lovable criminal leader with his intentions in the right place - and a story that involves railroad barons, sabotage, family killing, and a really ridiculously adamant fly.
It's a bad-ass film, pure and simple, and those here who have seen it, even if they don't love it all (and I admit I did not find myself as taken-away by it at first either), can adhere to its very unique and crafty style. Part of this comes from the fact `The West is a film of
reveals
. From the first shots of the opening, to Frank's walk up to the young boy, to the way Claudia comes from the train, to even the bodies surrounding the train and the final showdown - the sleepy pace at times feels slow - but in actuality, what it is doing is giving us a very skillful reveal of events, places, people, and the story. With the camerawork of pans and tracking shots, with the very well-written script (by Leone and pals), and even with the gestures of the actors; the film is played out like poetry, like melody, and like true cinematic gold.
And speaking of melody. How about that score, eh?
Easily one of the best movie scores of all time, Ennio Morricone has composed something that is both beautiful and haunting. Every character has their theme, regardless of similarity to another's (for instance, notice how Harmonica's theme also plays for Frank's electric guitar sound), and it truly helps imbue the film with that sense of musical majesty, especially when we're faced with images of true incredibility in the size of the town and the beauty of Monument Valley. It's timeless. Nuff said!
When you realy think about it, the entire film itself is timeless in and of itself. As we'll be covering westerns from here on, and my range will kind of fluctuate, one thing to point out with one of the better ones here is that for all the complaints, jokes, and confusions we or the general public or even real filmmakers and film-geeks make about spaghetti westerns, an interesting thing to give them credit for is a surprisingly "Timeless" element that many of these films (and Leone's in particular) embody. Because of filming in Spain (and even moreso in America), because of the little historical goof-ups, because of the mythic "duel" scenes, because of the colorful characters that're more in line with a comic book than a historic novel, it all sort of correlates together into another world on its own, which somehow, even though our minds in ways tell us this IS fake...we are many times drawn into the humanity of the characters and the situations which we find fascinating and very real to us.
Once Upon A Time In The West, although very rooted in real history, real topics, and also being made in a time period which is personified strongly in the picture; is itself also one of those kinds of "fabrications". Which is not a dig at the film at all, it's truly an element I adore and that in itself is a testament to the quality of this film (and the quality of any of the great Italian Westerns or Euro films of the 60s and 70s). Whereas most Hollywood films (and to an extent, British films) try to tell stories in very "realized" worlds that seem like our own, usually putting the film strictly in the time period it was made and given the ratio of films made, the amount of ones that do not fall into this is quite small. But in the case of films like this, we have something that is not strictly determined based on its country of origin, its time and political climate, or even the studios behind it. It's a story, a world, a piece of escapist art that is a fantasy that we can find ourselves immersed in,
without having to suspend our disbelief
.
And FINALLY that gets me to my point.
The film, even with its inaccuracies, its odd characters, its strange and potentially unrealistic style, its sometimes questionable motivations; is itself an engaging story with emotionally-gripping characters and an enviorment that is both beautiful and terrifying. And it's not just because, oh, "it's set in the west" or "it's about a harsh historical time", but rather because through (and because of) the creativity with which it was made, it's a timeless film that got past all the B.S. of its time and factors of ego and became a film without time and without ego and without a need to "suspend disbelief". (not for this viewer anyway)
I have no idea if anyone understood what I was trying to say, but hopefully that'll spark some discussion.
Tune in next time, folks!
Oh, and finally, here's some pics!