Howdy folks! How about a news update?
The coders continue to refine the game engine and tweaking seems to be a passion for them! Shooting tweaks, UI tweaks, graphics tweaks, audio & voip tweaks.... that's a lot of tweaks! Screenshots anyone? See if you can spot a few enhancements since version 1.0 released 11 months ago.
19_graphics_1.jpg
19_openal_1.jpg
19_voip_1.jpg
A cool, new, rotoscope graphical function soon makes its debut for players or film-makers desiring a different look.
Is this sweet or what??
Check it out!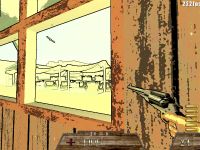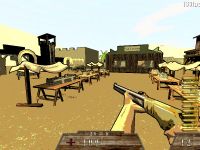 The mappers are beginning to make some progress in a few areas & with any luck we'll be uploading dm_lake, br_lake & br_train pretty soon for the testers enjoyment. Br_coyotebluff has undergone a few revisions in an attempt to improve the gameplay & should also be available soon. A few, select levels will also be sporting some "external high-res lightimage" goodness that makes for some killer looking shadows. Here's a taste!
(We're also

hopefull

that the next official release might possibly include a brand new map or two. But no promises I say! Nothing but works in progress at the moment. Time will tell.)
Want to be a tester? See last months news post.
Breli has been absent for the last few months due to real life but is planning a return to the mapping scene. We've missed him terribly & look forward to any contributions he might make. Btw, he's the
very proud father
of a beautiful, bouncing, baby boy!
Congrats amigo!!
Hey, I'm giving a big ol' shout-out to L3th4l & HugeLaser for keeping the website running perfectly. Smooth as Tennesee whiskey & faster than Wild Bill Hickock!
In other news, I think I gained 5 pounds over the Thanksgiving holidays. My horse isn't going to be happy about this.